Measuring Distance from
an Arc Center to an Edge
From the File Menu, open the tutor_in.stl file found in the SolidView Samples Folder.



If SolidView does not open the Sample Folder directly, you can access it by going to Program File > Stratasys Direct > SolidView 2015 > Samples.

Select the Measure tab on the SolidView ribbon.
Select the Measure Distance icon.

In the Measure Distance active dialog, select the necessary "From" and "To" fields (image to right).
Select an arc (any circle or part of a circle) and then select an edge to complete the measurement.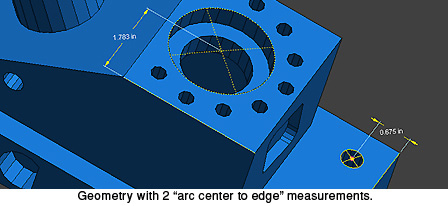 If you have suggestions for future Tech Tips, please email us at support@solidview.com.