Powerful CAD Viewing Software
SolidView Product Family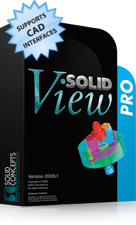 SolidView/Pro $495
SolidView/Pro is the centerpiece product and is offered at $495. The greatest benefit of SolidView/Pro is the ability to open native CAD files without having to own expensive CAD software. Simply purchase the specific interface(s) you need for popular CAD programs. In addition, SolidView/Pro can translate, scale, rotate, mirror, copy and combine 3D data, as well as perform complex measurements. It can publish SVD files to be opened with SolidView and SolidView/Lite. It also includes a mold analysis feature. Network licenses are available.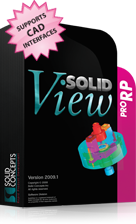 SolidView/Pro RP $1,495
SolidView/Pro RP is the most robust of the SolidView family of products and is designed for companies doing their own rapid prototyping work. SolidView/Pro RP offers all SolidView/Pro features as well as advanced rapid prototyping tools; compound cutting, file repair, z-correction, shelling, offset, and automatic or manual object layout. Optional CAD interfaces and network licenses are also available for SolidView/Pro RP.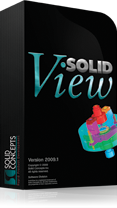 SolidView $99
SolidView is a basic version of the software offered at $99. The product allows the user to view, rotate and print STL and SolidWorks files, and will measure SVD files (the SVD format can be created from any file opened by a user with SolidView/Pro). This allows a workgroup to easily publish files with one copy of SolidView/Pro and multiple copies of either SolidView or SolidView/Lite. The SolidView user can also edit and save SVD files.